Hotels and other Accommodation
World Nomads
The Travel Insurance with the largest coverage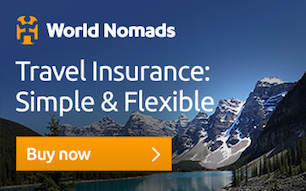 ---
Bolivia
Bolivia, officially the Plurinational State of Bolivia, is a landlocked country in the center-west of South America. It borders Brazil to the north and east, Paraguay and Argentina to the south, and Chile and Peru to the west.

Before European colonization, the Bolivian Andean region was part of the Inca empire - the largest empire of the pre-Columbian era. The Spanish empire invaded and conquered this region in the sixteenth century. During most of the Spanish colonial period, this territory was called Alto Peru or Charcas and was under the administration of the Viceroyalty of Peru, which covered most of the Spanish colonies of South America. After declaring independence in 1809, sixteen years of wars followed before the establishment of the republic, instituted by Simon Bolivar, on August 6, 1825. Since then, the country has gone through periods of political instability, dictatorships and economic problems.

Bolivia is a democratic republic, divided into nine Provinces. Geographically, it has two distinct regions, the altiplano to the west and the plains of the east, whose northern part belongs to the Amazon basin and the south part to the River Plate Basin, which includes the Bolivian Chaco. It is a developing country with an average Human Development Index (HDI) and a poverty rate that reaches about 60% of the population. Among its main economic activities are agriculture, forestry, fishing, mining, and production goods such as textiles, clothing, refined metals and refined petroleum. Bolivia is very rich in minerals, especially tin.

The Bolivian population, estimated at 10 million inhabitants, is multi-ethnic, with Amerindians, Mestizos, Europeans, Asians and Africans. The large number of different cultures in Bolivia contributed to a great diversity in areas such as art, cooking, literature and music.
---
Tourism
Bolivia has many tourist attractions as it is a multi-ethnic and multi-cultural country and has natural, material and cultural wonders.

Tourism in Bolivia requires a certain preparation (physical and mental). This nation of strong indigenous traditions often scare those accustomed to easy tourism from other South American countries. Roads and public roads in poor condition, cities with chaotic traffic and a hotel network that often comes down to a small establishment under family management are some of the obstacles to overcome to get to know a beautiful and unique country.
Little by little the scare is giving way to the enchantment (allied with a good dose of patience) and the eyes begin to witness the beauty of colonial cities such as Potosí, whose historic center was declared by Unesco a World Heritage Site, or the unique experience to cross desert areas of the south of the country, such as those traveling by land between the Salar de Uyuni and the Atacama Desert in neighboring Chile. La Paz is one of the main gateways to the country by air. Its proximity to fantastic sites such as Lake Titicaca and Tihuanaco, as well as fabulous Andean peaks make it an ideal logistical center.

The scenery made up of immense plates of salt, volcanoes, geysers and lagoons is able to erase all the side effects that a trip to Bolivia may cause. Its rich native past, allied with Hispanic legacies, give the visitor precious history lessons.
---
Gastronomy
The typical gastronomy of Bolivia differs according to the region of the country.

The usual breakfast in Bolivia is salteñas (vegetables and meat and pastries), cuñape (a small roll with cheese on top and bread is prepared in cassava flour), tucumana (similar to a salty but fried), and empanada (like a salteña and usually filled with cheese and meat). Other Bolivians also start the day with a blend of fruit like liquefied (mixed milk or water, sugar and fruit), fruit salad (fruit sliced ​​with yogurt with nuts and honey on top), and vitamin (fruit, sugar, milk and a beer shot).

Some of the main meals that are usually served in the country include spicy chicken (made from fried potatoes, fried chicken with piripiri and salad), lechon al horno (consists of a roasted pork and served with fried banana and sweet potatoes), and Lomo (a fried filet mignon served with rice, fried banana and eggs). Delicious tidbits and street food in Bolivia include anticucho (heart of cattle and served with spicy corn sauce and potatoes), choripan (spicy sausage sandwich), humitas (made from onion, corn puree, urucum oil and tortillas filled with potatoes) and salchipapa (sliced ​​fried sausage with potatoes).

Some of the country's typical drinks are api (tea with corn, cinnamon, cloves and lemon), chicha (made from fruits or cassava), Chuflay (prepared with jigger from singani, Sprite or 7-Up), singani (national liquor in Bolivia and made of muscatel grapes), mate of coca (tea of ​​coca leaves), El Inca (sweet beer with low alcohol content), yungueño (prepared with jigger of singani, orange juice and sugar or syrup), wine, fruits and orange cocktails.
---
Currency
The Bolivian
---
Official language
The main language spoken is Spanish, although Aymara and Quechua are also common. In addition, 34 other indigenous languages ​​are official.
---
Documentation required
Documents

Passport is required by all travelers except the following:

Travelers with national identity cards issued by Argentina, Bolivia, Brazil, Chile, Colombia, Ecuador, Paraguay, Peru and Uruguay.
Travelers with a "Diplomatic Pass" issued by the United Nations.
Travelers with documents issued to refugees and persons without nationality or citizenship.

Passports or alternative documents must be valid for at least 1 year, upon arrival.

Tourist Visits

Issued by the Consulates of Bolivia (or consular section of the Embassies)
Application requirements:
One photo size of the passport.
Completed application form.
Passport valid for at least 1 year.
Fee payable in cash or check.
Return flight ticket and travel itinerary as proof of travel.
Certificate of vaccination against yellow fever may be required.
For Specific Stays Visa, other than tourism, a letter of presentation from the relevant company or institution as proof of business intentions and the dates of travel.
Copy of confirmation of hotel reservations. If staying with friends or family, an invitation letter from the host in Bolivia can be used instead of hotel reservation. The letter should be addressed to the Embassy of Bolivia, and should indicate the relationship with the applicant, the dates of the visit, as well as the address and telephone number where you will be staying.

Time needed to issue visas
1 to 2 days for nationals requiring tourist visas without special authorization.
Approximately 6 weeks for all other citizens who require a tourist visa and special authorization from the Ministry of Foreign Affairs of Bolivia.
 
Visas must be required by everyone, provided they travel for tourism purposes, except:
From the countries mentioned above.
Nationals of Antigua and Barbuda, Argentina, Australia, Austria, Bahamas, Belgium, Brazil, Canada, Chile, Colombia, Costa Rica, Denmark, Ecuador, Finland, France, Germany, Greece, Iceland, Israel, Italy, Japan, Luxembourg, Monaco , New Zealand, Netherlands Antilles, Netherlands, Norway, Panama, Paraguay, Peru, Philippines, Poland, Portugal, Spain, Saint Lucia, Saint Kitts and Nevis, Saint Vincent and the Grenadines, South Africa, Sweden, Switzerland, Turkey, United Kingdom United Kingdom, United States of America, Uruguay, Vatican City;
Passengers in transit (except nationals of China) who continue their journey on the same or first plane within 24 hours provided that they have valid one-way or return documentation and do not leave the airport.

note:
All citizens traveling on business need a Specific Purpose Visa.
Nationals who do not require a tourist visa are generally allowed to stay for a period of 30-90 days, check with the Consulates of Bolivia (or consular section of the embassies).
In addition to a visa, citizens of many countries also need special authorization; check in the Consulates of Bolivia (or consular section of the Embassies).
---
Health care
In Bolivia the services of public hospitals are quite poor, while private hospitals have good facilities.

Before leaving, it is advisable to take health and travel insurance to cover any medical expenses.

No vaccine is required. Vaccination against yellow fever and malaria prophylaxis is recommended for those who intend to travel to the Amazon or the tropical zone to the east of the country.
---
Communications and electricity
Mobile phones / Mobile phones: The mobile phone network does not cover the whole country. The technologies used in Bolivia are D-AMPS, GSM, GPRS, EDGE.

Mobile operators: Entel, Tigo, NuevaTel PCS.

Internet: Many hotels have free or paid Internet connections. Only in major cities are Internet cafes.

Electricity: The electric current is 115/230 volts, 50 Hz.

Electrical outlets: Electrical outlets in Bolivia are type A and type C. Outlets of type A are similar to those used in the United States of America, while type C outlets are the same as those in Europe.
---
Other tourist destinations in:

Bolivia
---
Other world tourist destinations
---
City destinations and weekend getaways
---
Why to book with BOOK HOTEL OPORTO
The best prices
Our partnerships with the world´s largest operators offer research on the best market prices.
More options
At Rotas Turisticos you can book the hotel, buy the air ticket, book the transfer from the airport to the hotel and vice versa, book the local excursions, rent the car, take travel insurance and consult the places to visit and where to go.
Holiday Tips & Destinations
Hundreds of holiday destinations with all the options that allow you to easily choose the destination that best suits your dream vacation.
---
---