Pictures of: Palma de Mallorca
Hotels and other Accommodation
World Nomads
The Travel Insurance with the largest coverage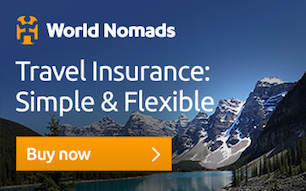 ---
Weather
Summer is short, hot, stuffy, dry, and almost cloudless; winter is long, cool, with strong winds and partly overcast skies. Throughout the year, the temperature generally ranges from 5 ° C to 31 ° C and is rarely below 1 ° C or above 34 ° C.
The best time of year to visit Palma de Mallorca and warm weather activities is from late June to late August.
---
Security
Spain is a safe country, but the usual preventive and precautionary measures in European countries should nevertheless be adopted.

You should be aware of the possibility of theft or theft in cities and major urban agglomerations (in particular in historical and tourist-intensive areas), as well as in areas susceptible to large concentrations of people, such as catering establishments, establishments and shopping centers and public transport. As a precautionary measure, it is recommended that you do not carry a lot of money with you and, where possible, leave your identity or travel documents in a safe place (eg in the hotel safe), replacing them with a stamped photocopy. in the hotel itself.

It is also recommended to drive inside the city with the car doors properly locked and to avoid leaving valuables visible when parked.
---
Gastronomy
Enjoy your stay to taste fresh products ranging from fresh fish from the fish market to grilled meats or rice and fish dishes, as well as typical Majorcan dishes. The most delicious dishes of national and international cuisine can not miss either. You can enjoy a selection of island recipes from the juiciest like fried Majorcan, roast suckling pig, leftover, camaiot.
---
Presentation
Palma is a tourist town and capital of the Spanish island of Mallorca (Mallorca) in the Western Mediterranean.
It is fundamentally known as a summer destination. The beaches appear geographically ordered from the capital Palma de Mallorca clockwise.
The monumental cathedral of Santa María, a Gothic landmark dating back to the 13th century, overlooks Palma Bay. Next door, La Almudaina is a Moorish-style Arab fortress. To the west of the city, Bellver Castle, at the top of the hill, is a medieval fortress with a unique circular shape.
This island attracts about 10 million tourists from all over the world every year, mainly English and German.
---
Tourist points
Majorca is, however, a pleasant destination any time of the year. There is no shortage of crystalline sea, endless paradisiacal coves, that is, small coves surrounded by amazing rock formations, many of them with enough sand to make the beach, which are part of Majorca's characteristic landscape, and various sea-related activities at your disposal. including diving and boating. In addition to the beaches, Serra Tramuntana, declared a UNESCO World Heritage Site in 2011, is one of Mallorca's natural ex-libris. If you prefer planned stops, we propose the following three villages: Andratx, Deià and Soller. You can catch the historic Sóller train, with its old wooden carriages, running the way since 1912.
For fans of mountaineering and hiking, the La Piedra en Seco Route connects Deia to Pollença, with several paths to choose from.
Other sights: the Caves of Drach, Caves of Artà, Caves of Hams, Alcudia, Pollenca and, of course, the historic center of Palma de Mallorca.
---
Other tourist destinations in:

Spain
---
Other world tourist destinations
---
City destinations and weekend getaways
---
Why to book with BOOK HOTEL OPORTO
The best prices
Our partnerships with the world´s largest operators offer research on the best market prices.
More options
At Rotas Turisticos you can book the hotel, buy the air ticket, book the transfer from the airport to the hotel and vice versa, book the local excursions, rent the car, take travel insurance and consult the places to visit and where to go.
Holiday Tips & Destinations
Hundreds of holiday destinations with all the options that allow you to easily choose the destination that best suits your dream vacation.
---
---