Hotels and other Accommodation
World Nomads
The Travel Insurance with the largest coverage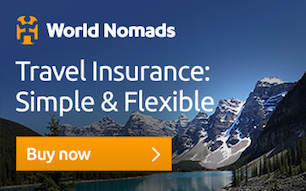 ---
Weather
Monsoon climate: Between June and September, torrential rains are common in floods and landslides in mountainous regions. The winter months are November-February.
There is great seismic activity throughout the country, which is not properly organized in terms of relief and aid to the affected areas. The National Society of Earthquake Technology - Nepal (NSET) provides information on earthquake procedures.
---
Official language
Nepali language
---
Local currency
Nepalese Rupee (NPR).
---
Travel documents
Visa required. Visa can be obtained at the airport or at borders. The travel document (passport) must be valid for at least 6 months. The extension of a visa up to 30 days is done with the Immigration Department. Remaining in Nepal after the visa has expired could result in police detention and fines.
---
Security
Following the bombings in Kathmandu on the weekend of May 25 and 26, 2019, it is suggested that travelers in Nepal's major cities (Kathmandu and Pokhara) seek to avoid busy spaces and keep abreast of advice. local security forces.
The political and social instability experienced in the country in recent years, advises that a trip to Nepal be carefully prepared and obtain a priori maximum information on the situation in the country. The situation is generally calm in the country, but political instability means that any partisan demonstration can be easily degraded, with acts of violence occurring, especially in the capital Kathmandu.
The precariousness of the roads leads to major travel delays and supply cuts in the less central areas, with the telephone and internet network still very poor in most of the country.
The land borders between Kathmandu and India have been severely blocked by political instability and relations between Nepal and India. The main roads in the east, covering the tourist center of Pokhara and Annapurna, are much calmer and less affected by the earthquake. The land borders with India in this area are much more peaceful.
The usual precautionary measures regarding personal property are recommended. Particular care is required when traveling to mountainous regions and choosing their guide. Although there is some guerrilla activity with acts of violence and theft, it usually does not affect tourism. Local customs and dress codes must be respected.
Drug use, possession and trafficking are illegal and subject to serious criminal consequences.
---
Health and vaccination
The health network is very poor. Western medical care is expensive and payment is usually required immediately. It is advisable to take out travel insurance that includes emergency, repatriation and air rescue if you intend to go mountain climbing.
Do not ingest non-bottled and sealed water and raw foods. It is important to keep in mind that drink ice may not be potable water. Prior to departure, a medical advice for the traveler is advised.
In case of need, you can use, among others, the following hospital services:
Kathmandu Model Hospital
P.O. Box 6064
Bagbazar, Katamandu
Tel .: +977.142.508.48
Medicare Hospital
Chabhil, Kathmandu
Phone: +977.144.670.67
---
Communications
Good fixed and mobile telephone network, except for mountain areas.
---
What to do
Himalayan hiking trails
Zip Flying
Sky diving
Bungee jumping
Rafting & Kayaking
Canoeing
Mountain biking
Paragliding
Bird watching
Everest Mountain View
Jungle discovery
Butterfly watching
Traditional Crafts
Meet the people
Village Tours
Food and Cooking
Cultural outings
Pashupatinath Tour
Pashupatinath Bagmati Aarti
Full Moon Concerts
Yoga
Meditation
Ayurveda
Faith Healing
---
Gastronomy
The monsoon in Nepal is lighter and simply fascinating as it spreads the vibrations of pleasure and freshness everywhere with the muddy scent. With the rains around the corner, savoring tasty food and snacks may be the favorite indulgence of many travelers. Monsoons are best enjoyed with delicacies, while Kathmandu has many flavors to offer.
Thakali Khana: Kathmandu is rich in cuisine where you can taste the cuisine of different countries. But when it comes to local cuisine, there are amazing varieties and the most popular is Thakali Khana. Dal-bhat (lentil soup and boiled rice) is the regular meal in Nepal, but to enjoy the authentic flavor, you need to try Thakali cuisine, sourced by the mountainous Thakali ethnic people. It is a set of varieties such as cooked rice, flat bread called roti or cooked flour known as dhido, lentil soup, at least two vegetable curry items, fried meat or gravy, spicy pickles, curds and a spoonful of pure ghee. The dishes are traditionally cooked and full of authentic flavor. The warm feeling inside and the cold feeling in the rain combine to provide a perfect experience with Nepalese Thakali food.
Newari Khaja: It is rich in varieties, from beaten rice to buffalo meat items such as Choyela and Sukuti, beans to potatoes, spicy pickles and more. Be sure to enjoy all the delicacies in small portions served as a set of Khaja. Otherwise, you can choose the items separately, according to your own choice, which will give you a spicy feeling. Also along with the set, one can try the rice beer, which is a homemade drink. If you are a candy lover, try Yomari. Newari Khaja is available on all major city streets, but you can visit typical Newari restaurants such as Honacha in Patan, Newa Lahana and Sasa in Kirtipur or Newa Suhli in Harissidhi for mouth-watering Newari cuisine. Newari food offers an out of the world experience on any rainy day.
Jhol Momo: Steamed dumplings full of meat and served with the perfect local tomato chutney may be the best monsoon food to try. The jhol acar, served in a bowl can never disappoint you in monsoons. Soup can be prepared in different styles, but has tomato as its base ingredient. It gives a feeling of pepper and tang and has an authentic Nepalese flavor. You can enjoy chicken momos, buffalo, mutton or vegetables anywhere in the capital with quick and easy service at an affordable price.
 Kwati Soup: The word Kwati comes from the ethnic language Newari, which refers to a mixed soup of nine sprouted bean varieties. It is a traditional Nepalese dish that is eaten during the monsoons, especially during the festival called Janai Purnima, which falls in August. Kwati has health benefits as it is considered a healthy food that can cure the cold and cough. Sprouted bean varieties such as beans, black and green grass, chickpeas, soybeans, peas, cowpeas and rice are loaded with protein, which is a storehouse of energy. Kwati soup is especially cooked with the addition of spices and seasonings such as cumin seeds, black mustard seeds, fennel and love seeds. The beans are mixed with cumin powder, turmeric, cold and coriander powder and a paste of onion, garlic and ginger. You can eat soup with rice, chapattis at any traditional restaurant or Newari. Kwati soup can satisfy your hunger and taste during the rainy season.
Gundruk Soup: Gundruk is one of the most popular traditional dishes of the Nepalese people. From the low plains to the mountains and mountainous areas, gundruk is the authentic food enjoyed by people from all ethnic communities. It is dry in nature and is made up of fermented leafy vegetables, mainly of green mustard and radish leaves. The fermentation process provides a different kind of spicy taste and smell. The food is rich in minerals and vitamins and can be tried in the form of soup called jhol or pickle, known as achaar. It can be served with the main meal or as an appetizer or simply as soup. The unique flavor enriched Gundruk (jhol) soup combined with the cool breeze and raindrops can be a pleasant experience. When it is raining, the sensation of hot, sour and spicy soup dripping down your throat immediately increases your mood.
---
Main tourist points
Everest
Dolpo
Chitwan
Lumbini, Nepal - Buddha's Birthplace
Kumari
Gokyo valley
Kapan Monastery
Palp
Tengboche
Rare
BARDIYA
Gokyo Valley
Namche Bazaar
TEHRATHUM SANKHUWASABHA
NEPAL NATIONAL PARKS
UNESCO WORLD HERITAGE SITES
KATHMANDU VALLEY
Pilgrimage Sites
DIFFERENT TEMPLATE STYLES IN PASHUPATINATH
among many more tourist attractions in this perfect country for those looking for amazing scenery and a lot of culture. Known worldwide for its incredible array of ecosystems, the world's largest mountain range, wildlife-rich rainforests, rushing rivers, thousands of ancient villages dominated by different ethnic groups, historic cities and frozen valleys, Nepal has a number of cultural attractions that are not found nowhere else on earth.
---
Presentation
Nepal, officially the Federal Democratic Republic of Nepal, is an Asian country in the Himalayan region. It is bordered to the north by Tibet, China's autonomous region, and to the east, south and west by India. It is in this country that Mount Everest is considered, the highest peak on the planet, just as Nepal approaches China to the north.
Nepal is in high demand by tourists and its historic heritage is declared by UNESCO as a planetary treasure, equally significant for housing a precious set of priceless assets, not only for historians and other researchers, but for all mankind.
---
Other world tourist destinations
---
City destinations and weekend getaways
---
Why to book with BOOK HOTEL OPORTO
The best prices
Our partnerships with the world´s largest operators offer research on the best market prices.
More options
At Rotas Turisticos you can book the hotel, buy the air ticket, book the transfer from the airport to the hotel and vice versa, book the local excursions, rent the car, take travel insurance and consult the places to visit and where to go.
Holiday Tips & Destinations
Hundreds of holiday destinations with all the options that allow you to easily choose the destination that best suits your dream vacation.
---
---