Hotels and other Accommodation
World Nomads
The Travel Insurance with the largest coverage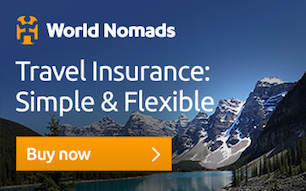 ---
Jordan
Jordan is located in the Jordan River Valley, between Egypt, Saudi Arabia, Iraq, Syria, Israel, and the West Bank. It is considered by the western community as an example of peace and stability in the region due to its positions in the face of the Israeli-Palestinian conflict. Established as an independent country after World War II, it has become what it is today thanks to the role and charisma of King Hussein, who died in 1999. He is an unavoidable figure in the Middle East who was responsible for some essential steps on the road to peace and peace. security in this troubled region of the world.
Its capital is Amman.
---
Official language
Arabic
---
Currency
Dinar
---
Documentation
An entry visa is required, which can be obtained before leaving at a Jordanian Embassy or, in the specific case of tourist visas, purchased upon arrival at Amman airport. When you leave the country you have to pay a dinar fee.
For tourists wishing to visit other countries in the region, it is essential to be provided with a visa before departure. As a rule, the embassies of these countries in Amman refuse to issue visas to non-resident citizens.
Travelers coming from Israel who wish to enter Syria will be prevented from doing so if their passport has had entry and exit stamps from Israel. Travelers should therefore ask the Israeli authorities to put the stamp on a separate sheet.
---
Tourism
Jordan is today one of the most sought after tourist destinations. It offers the security that no other neighboring country can offer and is in itself a living monument of human history. It was residence of Ammonites, Amorites, Cohabites and Edomites and from the 7th century BC, reign of the Nabateans. Of these, among other things, was one of the Seven Wonders of the World, the famous and once lost city of Petra. The territory was later occupied by Egyptians, Assyrians, Persians, Greeks, Romans, Arabs, Crusaders and Turk-Ottomans. All this makes Jordan a garden of priceless monuments.
While touring Jordan's numerous places of worship, you can also enjoy long desert camel rides, floating Dead Sea baths, great food, good music and warm hospitality that surprises all visitors. Immerse yourself in the imagination of the Arabian Nights and set out to discover this oasis.
---
Gastronomy
Jordanian cuisine is very colorful due to the influence of various cultures that have passed through its territory. Thus, it has flavors of Greek, Arabic, Persian, English cuisine, among others.
The daily raw material is khobez, a type of flat bread widely sold in bakeries across the country, usually accompanied by eggs, labaneh (a type of cream cheese), zaatar (a mixture of various spices), olive oil. and a cup of tea.
Sweets like manousheh, which includes cheese and zaatar, are very common at breakfast in Jordan.
The national dish is definitely the mansaf. This is a multi-layered plate of shraak bread (very similar to pancake) with rice topping, pieces of lamb cooked in a special jameed sauce (dry yogurt, with pine nuts or golden almonds and a kind of chips. A national dish, most people only eat on special occasions.
Another prominent dish is the lamb, used in large banquets, which consists of roast lamb stuffed with rice, onions, nuts and raisins. The meze (appetizers) are served as part of a meal including hummus (chickpea yogurt), tabbouleh (Arabic salad), among others.
---
Weather
Although Jordan is able to receive visitors at any time of the year, the best climate for a visit is always during fall and spring, ie from March to May and from September to November.
Jordan has a semi-desert and desert climate in the eastern part. Summer is hot and dry with very high temperatures, especially in June, July and August. In winter, the weather is cool and cold in some places, especially in the higher regions. The rains are light and usually happen between November to February.
---
Security
The degree of safety is, as a rule, high. However, vigilance is recommended as regards possible developments in the regional situation. Although these are isolated incidents, it is recalled that bombs have recently been blown in some hotels in the Jordanian capital, as well as other sporadic attacks against foreigners.
---
Health
It is recommended that you go with insurance. Health care outside Amman is basic and it is advised to seek treatment in the capital.
Avoid drinking tap water and eating raw foods (except quality restaurants).
---
Telecommunications and Electricity
Mobile Phones

Mobile use can be used if you have roaming enabled, however, pay attention to very high roaming charges.

Internet
The country is well served by internet services, there are several cyber cafes with high speed connections.
In case you have a laptop or notebook, there are numerous cafes that offer the free wifi connection.

Electricity
The electricity is 230 Volt 50 Hz and with two-pin plugs.
It is advisable to have a plug adapter kit.
---
Other tourist destinations in:

Jordan
---
Other world tourist destinations
---
City destinations and weekend getaways
---
Why to book with BOOK HOTEL OPORTO
The best prices
Our partnerships with the world´s largest operators offer research on the best market prices.
More options
At Rotas Turisticos you can book the hotel, buy the air ticket, book the transfer from the airport to the hotel and vice versa, book the local excursions, rent the car, take travel insurance and consult the places to visit and where to go.
Holiday Tips & Destinations
Hundreds of holiday destinations with all the options that allow you to easily choose the destination that best suits your dream vacation.
---
---