Hotels and other Accommodation
World Nomads
The Travel Insurance with the largest coverage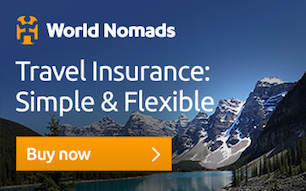 ---
Costa Rica
Costa Rica, officially the Republic of Costa Rica, is a country in Central America, bordering Nicaragua to the north, Panama to the southeast, the Pacific Ocean to the west, and to the east with the Caribbean Sea whose capital is San Joseph.
Costa Rica was sparsely inhabited by indigenous peoples before it came under Spanish rule in the 16th century. Being a poor and isolated colony, since becoming independent in the 18th century, Costa Rica has become one of the most stable, prosperous and progressives in Latin America.
Constitutionally abolished its army permanently in 1949, becoming the first and one of the few sovereign nations of the world without a standing army.
The constitutional republic, is the only one in the Latin American country to have been a democracy since 1950.
Occupying a privileged position in the heart of Central America, Costa Rica is a territory of 19,652 square kilometers with both the Caribbean Sea and the Pacific Ocean, and is surprisingly affordable - you can travel from coast to coast in just three hours by car or 45 minutes by plane.
---
Official language
Spanish
---
Currency
Colon
---
Tourism
The Caribbean region of Costa Rica stands out for its variety of aquatic ecosystems and its beautiful beaches of white and black sand, providing an ideal environment for activities such as sport fishing, diving and sunbathing. The most visited Central American country on the Pacific coast concentrates great resorts such as the spectacular active volcano Arenal, and its very popular beaches for surfing, for example Esterillos, Jaco, Hermosa, Boca Barranca and in Tamarindo.
Costa Rica is often referred to as the Switzerland of Central America because of its comfortable lifestyle, peaceful democracy and stunning natural beauty. The waves, the beauty is stunning and the pace slow and seductive. An oasis of peace in a turbulent region, this tiny nation attracts 1.5 million visitors each year.
 The more active travelers can browse, hike, or enjoy the local wildlife.
See the big cats in Corcovado National Park, monkeys and tortoises in Tortuguero or the abundance of orchids in the cloud forest of Monteverde.
Hospitable, peaceful and progressive, Costa Rica is one of the largest ecotourism destinations in the world especially in the Golfito region, near the Marino Ballena National Park.
With nearly a quarter of the country's national parks and protected areas, the opportunities to explore natural wonders is abundant.
---
Gastronomy
The cuisine of Costa Rica is simple and, contrary to popular belief, is not spicy. Typical food (native dishes) depend heavily on rice and beans, the basis of many Costa Rican dishes.
"Gallo Pinto," the national dish of fried rice and black beans, is as popular as the hamburger in North America, particularly at breakfast.
At lunch, "gallo pinto" is simply rice and beans accompanied with salad of cabbage and tomatoes, fried bananas and some meat. In general, the meals are healthy and reasonably priced.
Other staple foods include beef, chicken and fish. Meats are usually fried (not grilled) and the meat is very lean like cattle, because they are grass fed.
Despite 750 miles of coastline, seafood (especially shrimp and lobster) is quite expensive because Costa Rica exports most of its seafood. Do not forget to try the "Lizano Salsa" found in the restaurant across the country - the Costa Rican equivalent of ketchup or meat sauce. It is slightly sweet, with a hint of seasoning given by black pepper and cumin.
---
Weather
Located north of the Equator, Costa Rica has a temperate tropical climate marked by two seasons: the dry (December to April) and humid (May to November). The average temperature throughout the year is between 22 ° C (71 ° F) and 27 ° C (81 ° F).
The altitude and orientation of the country also affect precipitation with rain, fog and microclimates side by side with very dry regions.

The dry season begins in December and continues through April. Warm, sunny days without rain are tempered in January and February by fresh winds.
The hottest months are March and April, coinciding with the end of the dry season. The most desirable temperatures are from November to January, mostly due to slight northeastern trade winds, which flow through the mountains. As a general rule, the dry season brings greater temperature variations between days and nights, with oscillations between -10 ° C (-14 ° F) to -8 ° C (18 ° F).

The rainy season runs from May until the end of November, with sunny mornings dotted with showers in the hot afternoons. Also known as the green season, these months are punctuated by brief periods of drought that occurs in July and August. In September and October, there are real rainfalls that wet the slopes and fill the rivers.
---
Documentation
Citizens with valid passports from the following countries are authorized to remain in Costa Rica for 90 days without a visa:

Argentina, Australia, Austria, Bahamas, Barbados, Belgium, Brazil, Bulgaria, Canada, Croatia, Chile, Cyprus, Czech Republic, Denmark, Estonia, Finland, France, Hungary, Ireland, Iceland, , Israel, Italy, Japan, Latvia, Liechtenstein, Lithuania, Luxembourg, Malta, Mexico, Montenegro, Norway, New Zealand, Netherlands, Panama, Paraguay, Poland, Portugal, Monaco, San Marino, Puerto Rico, Serbia, South Korea, Romania, Vatican City, Singapore, Sweden, Switzerland, the Republic of China (Taiwan), Trinidad and Tobago, United Kingdom of Great Britain and Northern Ireland, Tobago and Uruguay.

As of 30 July 2007, the Costa Rican authorities require all travelers from the following countries (Angola, Benin, Burkina Faso, Cameroon, Democratic Republic of Congo, Gabon, Gambia, Guinea, Liberia, Nigeria, Sierra Leone , Sudan, Bolivia, Venezuela, Brazil, Peru, Colombia and Ecuador, as well as the Republic of Guyana) have a yellow fever vaccination certificate.

Citizens with valid passports from the following countries are exempt from all visa requirements for 30-day stays in Costa Rica, however, once within the country, they may apply for the extension of the Immigration Office for an authorized period of stay of 90 days;

Antigua and Barbuda, Belize, Bolivia, Dominica, El Salvador, Russian Federation, Fiji, Grenada, Guatemala, Guyana, Honduras, Northern Mariana Islands, Marshall Islands, Solomon Islands, Kiribati, Maldives, Mauritius, Federated States of Micronesia, Nauru , Saint Vincent and the Grenadines, Saint Lucia, Sao Tome and Principe, Seychelles, Suriname, Tuvalu, Turkey, Vanuatu and Venezuela.

Citizens of all countries not listed above need a visa from a Costa Rican embassy or consulate before traveling.

As in most countries, in order to visit Costa Rica, the traveler has to show their passport. The passport must be valid for 6 months from the date of entry to Costa Rica.
---
Health
Immunization against yellow fever is only required for travelers originating from or who have passed through countries with risk of yellow fever transmission.
Contact your doctor about 8 weeks before your trip to see if you need any vaccine or other preventive measures.
Medical care in Costa Rica is very good. Only emergency medical treatment is available to visitors free of charge.
You should make adequate travel health insurance with resources necessary to cover the cost of any medical treatment abroad and repatriation.
If you need emergency medical assistance during your trip, dial 911 and request an ambulance and contact your insurance company immediately when you are referred to a medical facility for treatment.
---
Safety
Do not wear jewelry or carry large amounts of money. Take special care with your belongings in hotels and inns. Store valuables in a hotel room safe. Do not exchange money on the street.

Be vigilant when using the bus. Pocket thieves have a simple yet effective way of distracting them to do theft. Be particularly vigilant with your valuables on the beach. Avoid areas in low light or remote.

Avoid using unofficial taxis. The official taxis are red in color with a triangular sticker and plastic box on the top with the name and number of the taxi company. The ideal is to use taxis sent by radio. Make sure that the driver's ID is clearly visible on the dashboard and that the driver uses the meter.

Theft in cars is commonplace. Do not leave valuables in rental cars and avoid leaving belongings where they can be seen from outside the car. Park, in secure car parks, or in busy, well-lit areas.
---
Telecommunications and electricity
Costa Rica has an excellent and extensive communications system.
Calling cards are much more practical, and coin-operated phones are hard to find. One can buy phone cards in a number of stores and pharmacies. However, there are several competing calling card companies and certain boards working with only a few phones.

Costa Rica mainly uses GSM networks (Global System for Mobile Communications). If your phone has a GSM system, you can make and receive calls in Costa Rica. Just turn on international roaming.


Electricity in Costa Rica is 120 Volts, alternating at 60 cycles per second.
When traveling to Costa Rica with a device that does not accept 120 Volts at 60 Hertz, a voltage transformer is required.
Outlets in Costa Rica generally accept a flat blade plug or two parallel round pins with ground pin. If you have different sockets, you need a power adapter.
---
Other tourist destinations in:

Costa Rica
---
Other world tourist destinations
---
City destinations and weekend getaways
---
Why to book with BOOK HOTEL OPORTO
The best prices
Our partnerships with the world´s largest operators offer research on the best market prices.
More options
At Rotas Turisticos you can book the hotel, buy the air ticket, book the transfer from the airport to the hotel and vice versa, book the local excursions, rent the car, take travel insurance and consult the places to visit and where to go.
Holiday Tips & Destinations
Hundreds of holiday destinations with all the options that allow you to easily choose the destination that best suits your dream vacation.
---
---