Hotels and other Accommodation
World Nomads
The Travel Insurance with the largest coverage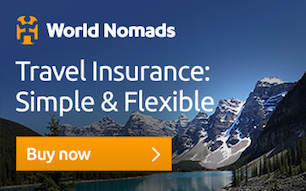 ---
Official language
Lithuanian
---
Local currency
Euro.
---
Travel documents
Non-nationals need a valid ID / passport valid for travel up to 90 days per semester.


For stays longer than 3 months, a residence permit must be requested from the Lithuanian Ministry of Internal Affairs migration services (see link: http://www.migracija.lt/index.php?-1538558935)
---
Security
Lithuania is a safe country with a relatively low crime rate. There are, however, episodes of tourist robbery, especially in the summer season, but which are generally not violent.

Particular attention should be paid to the parking of vehicles in more isolated / dimly lit areas, and to avoid leaving valuables in vehicles.
---
How to get
Lithuania has three international airports (Vilnius, Kaunas and Palanga).
---
Health and vaccination
Prevention against tick encephalitis by vaccine is advised following the detection of cases of infection in certain forest areas in Lithuania.
---
Weather
Continental climate. Average temperatures: +3 to -5 (winter) and 16 to 17 (summer).
---
Gastronomy
Have you heard of Lithuanian cepelinai? Grated potato dumplings stuffed with meat, curd or mushrooms? Lithuanian cuisine has deep traditions and culinary experiences. And it is best to try it traveling through the different regions of the country, where the dishes originally came from. In Dzūkija, you will have potato band and buckwheat silly. In Samogitia, they will make kastinys or cibulinė soup. In Sudovia, they cut a piece of smoked skilandis or pull a cabbage head stuffed with meat from the oven. And in Aukštaitija, they will definitely serve a glass of home brew or kvass.
---
When to go
Lithuania, despite being the southernmost of the Baltic countries, has a cold climate most of the year. The best time to visit the country is from May (late spring) to early October (autumn).
---
Principais pontos turísticos
Do centro histórico da capital Vilnius à cidade universitária de Kaunas, passando pela cidade portuária de Klaipéda ou pelos cinco parques naturais do país, todas as viagens à Lituânia valem a pena.
Atrações turísticas na Lituânia
- Vilnius: o espírito extraordinário desta cidade convida-o a explorá-lo dia e noite. Os misteriosos pátios da Cidade Velha e as esculturas que ali habitam, os detalhes arquitetónicos seculares, as águas dos dois rios balançando no meio da cidade, os parques verdes e a sombra do jardim e as ruas animadas que nunca dormem, onde estranhos se tornam conhecidos e o que é estrangeiro se torna seu. Vilnius será uma conquista com suas celebrações e festivais, galerias de arte e salas de teatro e concertos, boutiques locais elegantes, hotéis modernos e elegantes, restaurantes de luxo e comida de rua, discotecas e pequenos bares.
- Kaunas
Kaunas, a segunda cidade da Lituânia, a 100 km a oeste de Vilnius, conserva um belo centro histórico, inúmeras igrejas barrocas, uma catedral do século XV, que foi reformada, adotando o estilo barroco, um interessante museu de instrumentos musicais, um museu de belas artes e edifícios históricos de diferentes épocas. A principal atração turística da cidade, entretanto, é o castelo de Kaunas, do século XIV que teve grande importância militar no passado. Hoje aproximadamente um terço do castelo de Kaunas foi restaurado e reconstruído. Na torre principal funciona uma galeria de arte e um escritório de turismo governamental. Estenda a mão à cidade e faça um balanço dos edifícios Art Deco exclusivos, da arte de rua com cores vivas, dos monumentos históricos e das galerias de arte moderna. E se se encontrar inadvertidamente ao lado de mesas cheias de comida e bebida no Laisvės Alėja, saiba disso: Kaunas gosta de comemorar.
- Klaipėda: a aproximadamente 300 km de Vilnius, é a terceira cidade da Lituânia e único porto importante do país. Esta é uma cidade de verão. Um lugar onde ventos, barcos e pessoas se cruzam. A cidade, com belos parques e praias de areias brancas possui um gracioso centro histórico com casas coloridas e antigas construções, muitas delas em estilo alemão enxamel. É bom lembrar que a cidade pertenceu a Alemanha e parte de sua população tem origem germânica. Klaipėdaé, famosa por o seu âmbar, é visitada expressamente com o objetivo de comprar objetos produzidos com essa resina. Na cidade existe até um Museu do Âmbar, uma das atrações turísticas de Klaipéda.
- Trakai: a menos de 30 km de Vilnius e super fácil de ser visitada, está Trakai, uma pequena cidade situada em uma península que se projeta sobre um lago cercado por pinhais. Lá existe um enorme castelo medieval, inteiramente restaurado

A lista do Património Mundial da Lituânia contempla os seguintes locais:
- Centro Histórico de Vilnius (1994)
- Istmo da Curlândia (2000) (sítio transfronteiriço com a Rússia)
- Sítio Arqueológico de Kernavė (Reserva Cultural de Kernavė) (2004)
- Arco Geodésico de Struve (2005) (sítio internacional em dez países)
---
Presentation
Lithuania is a country and is the Baltic state (former Soviet bloc of nations bordering Poland, Latvia and Belarus) located further south of Europe. The capital, Vilnius, near the Belarus border, is known for its medieval old town.
Whether it's the Baltic Sea breeze or the almost endless summer days: Lithuania has a supernatural quality. At the southern end of the Baltic states, the beaches are full of amber and the woods alive. Medieval-style mead and traditional wood carving never went out of style.
The reverence of Lithuanian tradition is a lively counterculture, particularly in the compact capital Vilnius. A city of churches and Baroque elegance, Vilnius's cobblestone charms are not lost on tourists. Less visited are the second city of Kaunas and the Druskininkai spa resort, where 19th-century architecture blends with Soviet buildings. Camouflaging the rest of Lithuania are lakes, birch and pine forests and flat farmland; In Lithuania there is room to breathe.
---
Other world tourist destinations
---
City destinations and weekend getaways
---
Why to book with BOOK HOTEL OPORTO
The best prices
Our partnerships with the world´s largest operators offer research on the best market prices.
More options
At Rotas Turisticos you can book the hotel, buy the air ticket, book the transfer from the airport to the hotel and vice versa, book the local excursions, rent the car, take travel insurance and consult the places to visit and where to go.
Holiday Tips & Destinations
Hundreds of holiday destinations with all the options that allow you to easily choose the destination that best suits your dream vacation.
---
---