Pictures of: Pamukkale, Turkey
Hotels and other Accommodation
World Nomads
The Travel Insurance with the largest coverage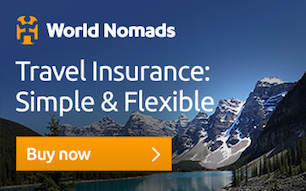 ---
Health and vaccination
There is no requirement for preventive vaccination to enter Turkey.
Due to the recent polio epidemic that has affected some countries, notably Afghanistan, India, Pakistan, Nigeria and Tajikistan, all travelers traveling to those countries via Turkey may be required to have proof of vaccination against such a polio. disease.
The sanitary network still has some deficiencies, especially in the Anatolian plateau. Its quality is reasonable in the main tourist centers. It is advisable to consume bottled water. Underwriting of an insurance policy with a foreign insurance company is required to cover, if necessary, medical expenses, including hospitalization and medical repatriation.
---
Pamukkale
Pamukkale is a pool of limestone thermal pools that over the centuries have formed gigantic basins of water that cascade down a hill, situated near Denizli, Turkey.
---
Tourist points
Pamukkale, one of the main attractions in Turkey, known as the "cotton castle", is about 380 meters above the valley, on a small hill. Pamukkale is a unique UNESCO World Heritage Site. Pamukkale is spectacular any time of day, but at dusk it gets golden reflections and a special glow that leaves us speechless.
The water that flows through the stalactites has given rise to true step-shaped turquoise pools and caused the formation of "waterfalls" with very curious effects. The waters of the hot springs emerge from the earth at 53ºC. Already in ancient times were already used for therapeutic purposes attracting Romans from across the empire. The natural limestone-forming basins have a white that even outshine the sun's rays. The best time to take photos is at the end of the day, when natural pools reflect sunlight.

Tips
Although summer is the perfect time to bathe in the natural pools, beware of the sun. Wear a hat, use sunscreen and have a bottle of mineral water with you to prevent dehydration.
---
Communications
There are no significant problems except in some localities in Turkey. Occasionally there are limitations on internet access, especially after attacks, contempt or less peaceful demonstrations.
---
Security
There is a significant terrorist threat in Turkey. The likelihood of events of this nature occurring is still high. High-security measures to combat terrorism have been adopted throughout the country. Always be aware of the surrounding environment, particularly when in close proximity to military and security facilities, and in areas with a high concentration of passers-by, such as hotels, shops, outdoor bazaars, public places, tourist areas and public transport network. . Avoid crowds and demonstrations of any kind.
Emergency Contact Numbers:
- Police: 155;
- Medical Emergency: 112;
- Fire brigade: 110;
- Police in rural areas (jandarma): 156.
---
Travel documents
Visa regime:
- Official Passport Holders (Diplomatic, Special or Service)
For tourism and / or transit, holders of these passports do not need a visa to enter Turkey, but may stay for a period of up to 90 days per semester (6 months) from the date of first entry.

- Holders of ordinary / ordinary passports or presenting only the citizen card
Holders of such documents require a visa to enter Turkey. (For visa information see the website of the Turkish Ministry of Foreign Affairs: http://www.mfa.gov.tr/visa-information-for-foreigners.en.mfa).

Documents required to enter Turkey:
Nationals traveling to Turkey must have at least one of the following three documents:
- Official Passport
- Common / Ordinary Passport
- Citizen Card

How to get visa?
1. Citizens wishing to travel to Turkey for tourism may obtain their visa through the e-Visa electronic system (www.evisa.gov.tr).
This system allows you to obtain an electronic visa within minutes. You will only have to go to www.evisa.gov.tr ​​and provide the requested information. Once the order has been approved, payment must be made online. The e-Visa is then sent to the traveller's email address.

Important Note: The only official website to apply for e-Visa is: https://www.evisa.gov.tr
---
Local currency
Local Currency: Turkish Lira.
---
Official language
The official language is Turkish.
---
Weather
In Pamukkale, summer is hot, dry and cloudless. Winter is cool with precipitation and partly overcast skies. Throughout the year, the temperature generally ranges from 2 ° C to 35 ° C and is rarely below -3 ° C or above 38 ° C.

The best time of year to visit Pamukkale and warm weather activities is from mid-June to mid-September.
---
Other tourist destinations in:

Turkey
---
Other world tourist destinations
---
City destinations and weekend getaways
---
Why to book with BOOK HOTEL OPORTO
The best prices
Our partnerships with the world´s largest operators offer research on the best market prices.
More options
At Rotas Turisticos you can book the hotel, buy the air ticket, book the transfer from the airport to the hotel and vice versa, book the local excursions, rent the car, take travel insurance and consult the places to visit and where to go.
Holiday Tips & Destinations
Hundreds of holiday destinations with all the options that allow you to easily choose the destination that best suits your dream vacation.
---
---