Pictures of: Nazaré - Portugal
Hotels and other Accommodation
World Nomads
The Travel Insurance with the largest coverage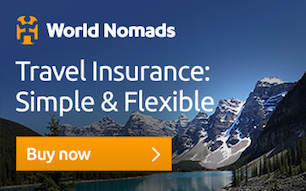 ---
Nazaré
Nazaré is a Portuguese village, home to the homonymous county, the sub-region of the West, Central region.
The present urban space of the village brings together three ancient settlements, Pederneira, Sítio da Nazaré and Praia da Nazaré, and new neighborhoods of the second half of the 20th century, such as Urbisol or Rio Novo, arising as a result of the natural expansion of the three primitive nuclei. (P.D.M., 1997).
The village is home to a small municipality with 82.43 km ² of area, subdivided into 3 parishes. The municipality is surrounded to the north, east and south by the county of Alcobaça and to the west borders with Atlantic Ocean.
---
Tourism
A spectacular beach, white fishermen's houses and huge cliffs over a deep blue sea make this fishing village a favorite tourist destination, especially due to its traditional features.

One can still see fishermen dressed in plaid shirts and black trousers, and their wives with seven petticoats, mending fishing nets or drying fish on the sand, near their colorful boats.

In the summer season there are the famous colorful huts along the beach. Above this beauty we can find the Site and the Flint.
---
Gastronomy
For those who enjoy fish and shellfish, Nazaré is almost a gastronomic paradise: fresh fish cooked in different ways, from the Caldeirada to the Nazarene (with different varieties of fish), grilled sardines, grilled sea bass and lobster and lobster and lobster .
---
Weather
According to the Thornthwaite Climate Classification, the city of Nazareth has a mild, temperate climate with a moderate water deficit in the summer and a thermal efficacy in null or small summer.
---
Other tourist destinations in:

Portugal
---
Other world tourist destinations
---
City destinations and weekend getaways
---
Why to book with BOOK HOTEL OPORTO
The best prices
Our partnerships with the world´s largest operators offer research on the best market prices.
More options
At Rotas Turisticos you can book the hotel, buy the air ticket, book the transfer from the airport to the hotel and vice versa, book the local excursions, rent the car, take travel insurance and consult the places to visit and where to go.
Holiday Tips & Destinations
Hundreds of holiday destinations with all the options that allow you to easily choose the destination that best suits your dream vacation.
---
---